Helpful resources in one place for you to connect with information, activities, and God's word in action.
The Book Club is a fellowship for women who enjoy reading.  We look forward to our discussions about what we have read.  The book club members recommend and select the books to be read.  Please review our current reading list.  We invite you to join us.   Friends and family are always welcome.  The Book Club meets on the fourth Sunday of the month at 5:30 pm.
April 2021 – December 2021
Book Club Recommendations (Books read are noted by the check mark)
A Promised Land, by Barack Obama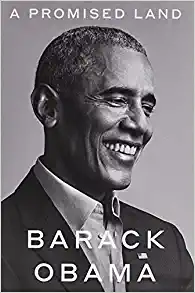 A riveting, deeply personal account of history in the making, from the president who inspired us to believe in the power of democracy.  In the stirring, highly anticipated first volume of his presidential memoirs, Barack Obama tells the story of his improbable odyssey from young man searching for his identity to leader of the free world, describing in strikingly personal detail both his political education and the landmark moments of the first term of his historic presidency—a time of dramatic transformation and turmoil.  (memoir) (November 2020)
768 pages
Becoming, by Michelle Obama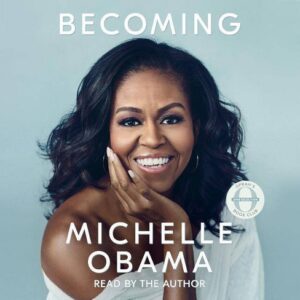 Becoming is the memoir of former First Lady of the United States Michelle Obama, published in 2018. Described by the author as a deeply personal experience, the book talks about her roots and how she found her voice, as well as her time in the White House, her public health campaign, and her role as a mother. (a memoir) (Nov 2018) 448 pages
Begin Again James Baldwin's America and Its Urgent Lessons for Our Own,by Eddie S. Glaude Jr.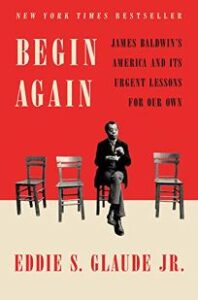 We live, according to Eddie S. Glaude Jr., in a moment when the struggles of Black Lives Matter and the attempt to achieve a new America have been challenged by the election of Donald Trump, a president whose victory represents yet another failure of America to face the lies it tells itself about race. From Charlottesville to the policies of child separation at the border, his administration turned its back on the promise of Obama's presidency and refused to embrace a vision of the country shorn of the insidious belief that white people matter more than others. (nonfiction) (2020) 232 pages
Caste: The Origins of Our Discontents, by Isabel Wilkerson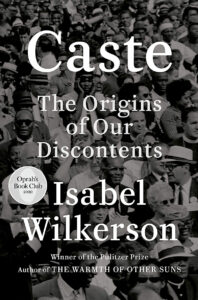 Caste examines the unspoken caste system that has shaped America and shows how our lives today are still defined by a hierarchy of human divisions. "As we go about our daily lives, caste is the wordless usher in a darkened theater, flashlight cast down in the aisles, guiding us to our assigned seats for a for a performance. The hierarchy of caste is not about feelings or morality. It is about power—which groups have it and which do not."  (nonfiction) (August 2020) 496 pages
Got Issues: Walking In Wholeness Despite Life's Issues, by Morgan McCoy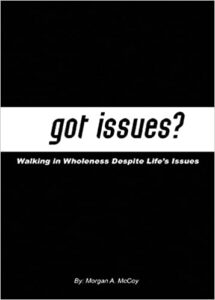 Within in the pages of this book, Morgan will remind you of God's ability to handle each issue you face and guide you towards experiencing the wholeness you deserve. This book details the process of the woman who had the issue of blood as well as incorporates Morgan's victories over her personal issues as a means to help you overcome your own battles whether big or small. (2016) (Nonfiction) 74 pages
Having Our Say: The Delaney Sisters' First 100 Years, by Amy Hill Hearth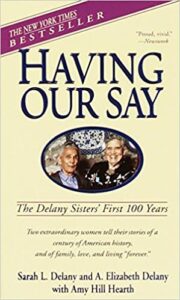 This is the oral history of Sarah "Sadie" L. Delany and A. Elizabeth "Bessie" Delaney,
two civil rights pioneers.  Both women were born in the late 19th century to a former slave. Their stories were largely unknown until The New York Times reporter Amy Hill Hearth interviewed them for a feature story in 1991, and the popular story was expanded into book form. (Biography) (September 1993) 214 pages
Just a Sister Away, by Renita Weems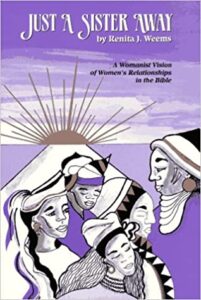 The Essence bestselling author of Listening for God reveals the timeless connection between today's women and their biblical sisters--and how to live a better life because of it.
(Spirituality) 188 pages
Stamped From the Beginning", Ibram Kendi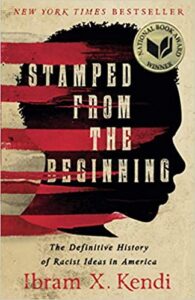 In this deeply researched and fast-moving narrative, Kendi chronicles the entire story of anti–Black racist ideas and their staggering power over the course of American history. Stamped from the Beginning uses the lives of five major American intellectuals to offer a window into the contentious debates between assimilationists and segregationists and between racists and anti-racists. (History) (March 2016) 592 pages
Real Talk provides a safe, non-judgmental space where FBC women of all ages can share and listen to one another in supportive and caring ways.  Real Talk gives women an opportunity to share their stories, to be encouraged and empowered through wisdom and God's word.  Real Talk is a quarterly forum for women at every stage of life.  Women share their experiences, stories, and perspectives on contemporary and global issues of interest to women.  Real Talk is a space for women to connect, find encouragement and grow in faith and friendship.
A Spiritual Gift is an endowment given to each of us because of the grace of God. They are given to us for the good of others and to fulfill the mission of the church.
We will explore how our God given talents and strengths can help us build, connect , support and uplift us to be a better church family and members of our community.
FEBRUARY
Just As I Am, by Cicely Tyson
MARCH
The Chancellor, by Katie Marton
APRIL
The Sum of Us, by Heather McGhee
MAY
BLINK, by Malcolm Gladwell
JUNE
Get Out of Your Head: Stopping the
Spiral of Toxic Thoughts by Jennie Allen